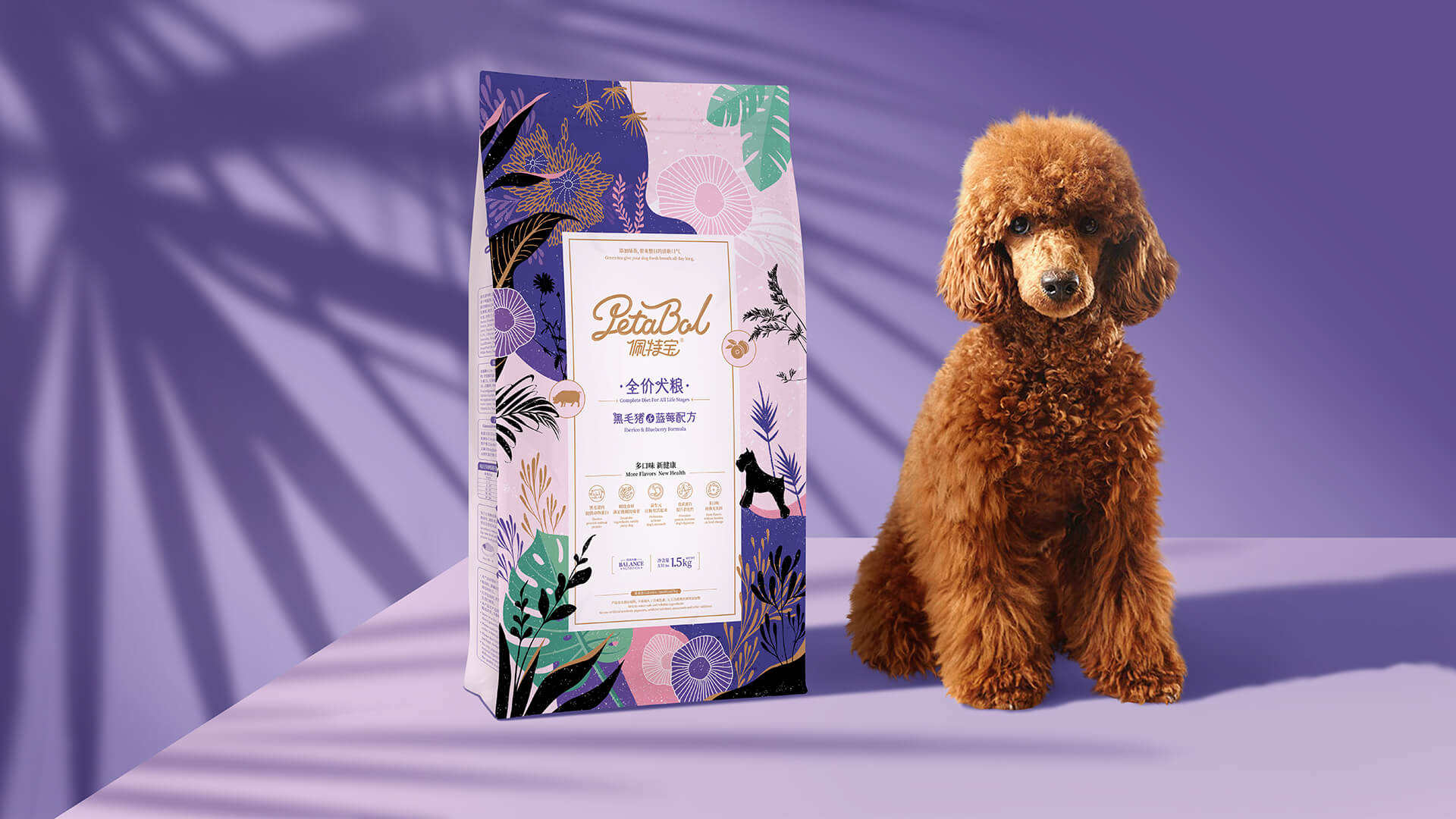 果蔬及其他营养成分

Fruits, vegetables & other nutrients
精选新鲜黑毛猪肉,匹配以益眼水果蓝莓,增进食欲,均衡狗狗日常营养和能量需求。
Loaded with fresh iberico, matching with eye-friendly blueberries to enhance the appetites and balance the dog's daily nutrition and energy needs.
精选食材满足挑剔的味蕾

Exquisite ingredients satisfy picky dog

许多狗狗尤其是小型犬,由于喂养过程中宠物主人的宠溺以及宠物本身消耗小不易饥饿,容易出现挑食问题。佩特宝选用口感细腻的黑毛猪猪肉,紧实的肌肉纤维和鲜美的口感,提升爱宠食欲。蓝莓果肉酸甜的口感能促进唾液的分泌,进一步提升狗狗的食欲,满足挑剔的味蕾。

Many dogs, especially small breeds, are prone to have picky eating problem due to the excessive dotage of owners during feeding and the small consumption of the pet itself. PetaBol selects delicate iberico with firm muscle fibers and delicious taste to enhance pet's appetites. The sweet and sour taste of blueberries promote the secretion of saliva, further promoting the dog's orexis and satisfying its discerning taste buds.

黑毛猪肉提供动物蛋白

Iberico provide animal protein

尊重宠物,任何的饮食供给都应该从宠物本身出发,去了解它们的所需。从基因和生理结构为出发的研究表明,动物蛋白更适合犬科动物的肠胃,有利于消化吸收。以真实黑毛猪猪肉作为主要蛋白来源,富含肉类的饮食结构满足狗狗对于肉食的原始渴求。黑毛猪肉质结实,肌肉纤维细腻,高含量的脂肪平均分布于肌肉间,使得肉质柔软而不腻,让舌尖游走于凝脂细肉之间,爱不释口。

Any diet should be provided by respecting and understanding pet's needs. The studies based on genetic and physiological structures have shown that animal protein is better for the canine's stomach to digest. Therefore, authentic iberico as the main source of proteins can meet dogs' primordial desire for meat. Iberico with sturdy and delicate muscle fibers, is rich in fat which are distributed evenly between muscles and make the flesh soft and not greasy so that the tongue tip of your dog wanders greedily between the fat and the flesh.

益生元让肠胃活起来

Prebiotics activate dog's stomach

添加益生元(果寡糖、菊苣根粉),丰富的水溶性膳食纤维一方面可以为肠内有益菌提供食物,保障有益菌生长繁殖所需营养供给,维护菌群活力。建立肠道微生态的平衡稳定以应对换食、换季、环境转换等外界刺激对宠物产生的应激,维护消化系统功能。另一方面,丰富的膳食纤维还能帮助维护肠道动力。

Add prebiotics (FOS and chicory root powder). The rich water-soluble dietary fibers, provide food for beneficial bacteria, guarantee the nutrient supply needed for the growth and reproduction of beneficial bacteria, adjusting the balance of intestinal micro-ecology to cope with the stress caused by external stimulus such as food change, season change and environmental conversion. Moreover, it's good to maintain the intestinal motility.

优质蛋白提升消化性

Premium protein increase pet's digestion

动物蛋白能提供狗狗完整的必需氨基酸种类。相比植物蛋白,动物蛋白有着更高的消化吸收率。佩特宝以动物蛋白源为主,合理搭配植物蛋白源,既能满足肠胃较好的消化吸收需求,提升消化安全性,又能很好的平衡动物油脂和胆固醇的摄入,让营养素的吸收科学合理。

Animal protein can provide complete essential amino acids for dogs. Compared to vegetable protein, animal protein has a higher rate of digestion and absorption. PetaBol with animal proteins matching with reasonable sources of vegetable proteins, not only are easier to be digested and absorbed, but also good for controlling the intakes of the animal fat and cholesterol scientifically and reasonably.

多口味转换无负担

More flavors without burden on food change

多种食材的美味搭配,让美好的口感与舌尖进行多重奏的碰撞,带给宠物全新的健康口感体验。每一种食材配方组合都有其独特的口感和营养侧重。通过给宠物提供多种口味的餐食选择,平衡不同时期不同季节的营养需求,根据不同情况下狗狗的需求进行调整,细心为您提供一整套的健康指导。温和的食材配方让爱宠游走于各种口味宠物粮间无负担,让换粮变成幸福的体验,多口味选择帮助减少主人对于宠物粮食耐口性问题的苦恼。

Delicious selections of various ingredients bring with the spark of great taste and tongue tip and give your pet new palatability experience. Each recipe features in its special flavor and nutrient contents. We have provided many flavors recipes and a whole set of healthy guidance so that you can change and adjust as per your dog's or cat's condition in different stages or seasons. Mild ingredients formulas allow your pet to walk though different flavor recipes cheerfully without burden. Besides, more flavors choices reduce your worries on the pet food tolerance.

清新口气一整日

Freshen breath all day long

与爱宠亲密接触时,口气问题是困扰宠主人的问题之一。研究证实,大部分狗狗的口气问题都来源于牙齿不健康以及口腔有害菌的滋生。科学钙磷比辅助坚固牙齿。此外,绿茶中含有丰富的茶多酚,其高抗氧化性支持口腔健康,维持爱宠整日口气清新,让亲密无距离。

When contacting closely with pets, the fetid breath of pet plague the owners greatly. The studies have confirmed that bad breath always roots in unhealthy teeth and oral pernicious bacteria. Scientific calcium phosphorus ratio can strengthen teeth and green tea with antioxidative effect, can maintain the oral health. Let you and your hairy friend more intimate.
Delicious Wild game bring with nutrition and health
– 野味就是香,营养又健康 –
黑毛猪
黑毛猪是以圈养方式散放到林区,自由采食春草、谷物或稻杆育成。由于其活动范围大、运动量高、食物来源广泛且原生态,黑毛猪对比白猪有更高的肌肉率和更低脂肪含量。黑毛猪肌肉纤维较多,口感细腻,并含有丰富的铁元素、蛋白质、维生素和亚麻酸,有益于维持正常的视觉功能、皮肤健康和强健的体质。
Ibericos
Ibericos, black hair pigs, are raised in forest districts and freely fed with spring grass, cereals or rice straws. With a large range to live and exercise and a variety of natural foods for diet, ibericos contain more muscles but lower fat, more muscle fibers and tastes more delicate compared with white pigs. Moreover, ibericos, rich in iron, proteins, vitamins and linolenic acids, are beneficial to maintain visual function, skin health and strong body.
----
蓝莓
蓝莓果实中含有丰富的营养成分,具有防止脑神经老化、保护视力、增强机体免疫等功能,营养成分高。其中,由于蓝莓富含花青素,具有活化视网膜功效,可以强化视力,是世界粮农组织推荐的五大健康水果之一。
Blueberry
Blueberry is rich in nutrients which can prevent the aging of brain nerve, protect eyesight and enhance body immunity, etc. As for the high nutrients, blueberry is rich in anthocyanins, which have the effect of activating the retina and strengthening eyesight. It is prized as one of the five healthy fruits recommended by the Food and Agriculture Organization.
----
原料组成:黑毛猪肉粉20%、脱水黑毛猪肉10%、糙米、鸡油、豌豆、马铃薯、蓝莓干4%、冻干鸡蛋黄、冻干鸡肝、冻干鸡肉、宠物饲料复合调味料、亚麻粕、绿茶0.2%、菊苣根粉0.1%、紫薯颗粒、红薯颗粒、南瓜、胡萝卜颗粒、菠菜干、香菇、西蓝花、花椰菜、欧芹、甘蓝菜、香蕉片、苹果颗粒、雪梨片、西柚片、山楂片、沙棘干、马齿笕、决明子、白芍、丝兰粉。
Ingredients: Iberico Powder 20%, Dehydrated Iberico 10%, Brown Rice, Chicken Fat, Pea, Potato, Dried Blueberries 4%, Freeze-Dried Egg Yolk, Freeze-Dried Chicken Liver, Freeze-Dried Chicken, Pet Compound Condiment, Flax Meal, Green Tea 0.2%, Chicory Root Powder 0.1%, Purple Potato Granules, Sweet Potato Granules, Pumpkin, Carrot Granules, Dried Spinach, Mushroom, Broccoli, Cauliflower, Parsley, Cabbage, Banana Slices, Apple Granules, Pear Slices, Grapefruit Slices, Hawthorn Slices, Dried Sea-buckthorn, Portulaca, Cassia Seed, White Peony,Yucca Powder.
----
添加剂组成:果寡糖0.1%、甘露寡糖、L-赖氨酸、氯化钠、乳酸钙、甘氨酸锌、甘氨酸铜螯合物、甘氨酸铁螯合物、蛋氨酸锰螯合物、碘酸钙、亚硒酸钠、维生素A乙酸酯、维生素D3、天然维生素E、维生素B1、维生素B2、维生素B6、维生素B12、烟酸、DL-泛酸钙、叶酸。
Additive Composition: Fructooligosaccharide 0.1%, Mannan Oligosaccharide, L-Lysine, Sodium Chloride, Calcium Lactate, Zinc Glycinate, Copper Glycinate Chelate, Iron Glycinate Chelate, Manganese Methionine Chelate, Calcium Iodate, Sodium Selenite, Vitamin A Acetic Ester, Vitamin D3, Natural Vitamin E, Vitamin B1, Vitamin B2, Vitamin B6, Vitamin B12, Niacin, DL-Calcium Pantothenate, Folic Acid.
Feeding Amount and Method
喂食重量和方法
喂食方法
参考建议每日饲喂表,根据具体情况调整合适喂食量。
3-8周龄离乳幼犬建议将一日的喂食量分4-6次给予,尽可能少食多餐。生长期的幼犬每日饲喂3次,6月龄后可减少到2次。活动正常的成年犬可每日减少到饲喂1次。怀孕哺乳期母犬建议自由采食。
本产品能为正常情况下的狗狗提供所需营养,不需添加额外补助品。
请全天给您的狗狗供应清洁饮水。
本产品不得饲喂反刍动物。
Feeding Method
Refer to the recommended daily feeding amount, and adjust according to the specific circumstances.
For 3-8 weeks weaning puppy, split the daily amount 4-6 times; for puppy in growing period, feed 3 times daily until the puppy is 6-month old. Then feed 2 times daily; for normal adult dog, 1 time feeding daily is all right; for pregnant or lactating dogs, let them intake freely.
No extra supplement is needed as PetaBol food can provide all required nutrients for any dogs under normal condition.
Please feed enough clean water for your dog the whole day.
The product is not suitable for the ruminant.
Guaranteed Analysis
产品分析保证值
粗蛋白质(Crude Protein)≥25.0%
水 分(Moisture)≤10.0%
粗脂肪(Crude Fat)≥12.0%
粗灰分(Crude Ash)≤10%
粗纤维(Crude Fiber)≤5.0%
钙(Calcium)≥1.0%
总磷(Phosphorus)≥0.8%
赖氨酸(Lysine)≥0.77%
水溶性氯化物(以Cl-计)≥0.45%